I recently had the pleasure of purchasing a near mint complete GOTO Mark-X mount from Mr. Koji Matsumoto. Being a international buyer I was nervous as I had some poor experiences with companies that assisted international buyers to purchase on Japan Yahoo auction. After doing some research I found that Mr. Koji is a very well respected telescope seller in the U.S. and had a perfect rating on a U.S. used telescope site. My correspondence with Mr. Koji lasted for several weeks before he offered the sale of his personal Mark-X mount. I was patiently looking for Mark-X to pair with my 1980fs GOTO 8cm Semi-Apo F/12.5 telescope, The same model that Mr. Koji grew up with. The shipment of the Mark-X arrived in perfect condition along with literature and a nice Astronomy magazine plus a small gift. Needless to say I was pleasantly surprised and amazed at how well the parts were protected by Mr. Kojifs packing material. It was expertly done.
Mr. Koji provided clear and concise communications for me and pictures that were clear and complete. Every step of the way updates were given on a daily basis on progress. The shipping details were clear and accurate and again Mr. Koji sent pictures of the shipping process including a picture of the pickup. I have been collecting telescopes and astronomical parts for over 20 years and this is by far the most complete, concise and professional service I have encountered. In my estimation Mr. Koji is a gNobleh telescope vendor and I will continue to ask him for assistance in purchasing from the Japanese market.
The first night after receiving the Mark-X mount that also came with dual axis drive gComet Trackerh I was overwhelmed by a feeling of luck. The kind of luck that happens a few times in ones lifetime. I am now the caretaker of a rare and complete GOTO Mark-X mount that traveled the Pacific ocean to view the noble stars of North America and this would not have occurred without good luck in becoming a friend of Mr. Koji Matsumoto.
Best Regards
Donald Chatfield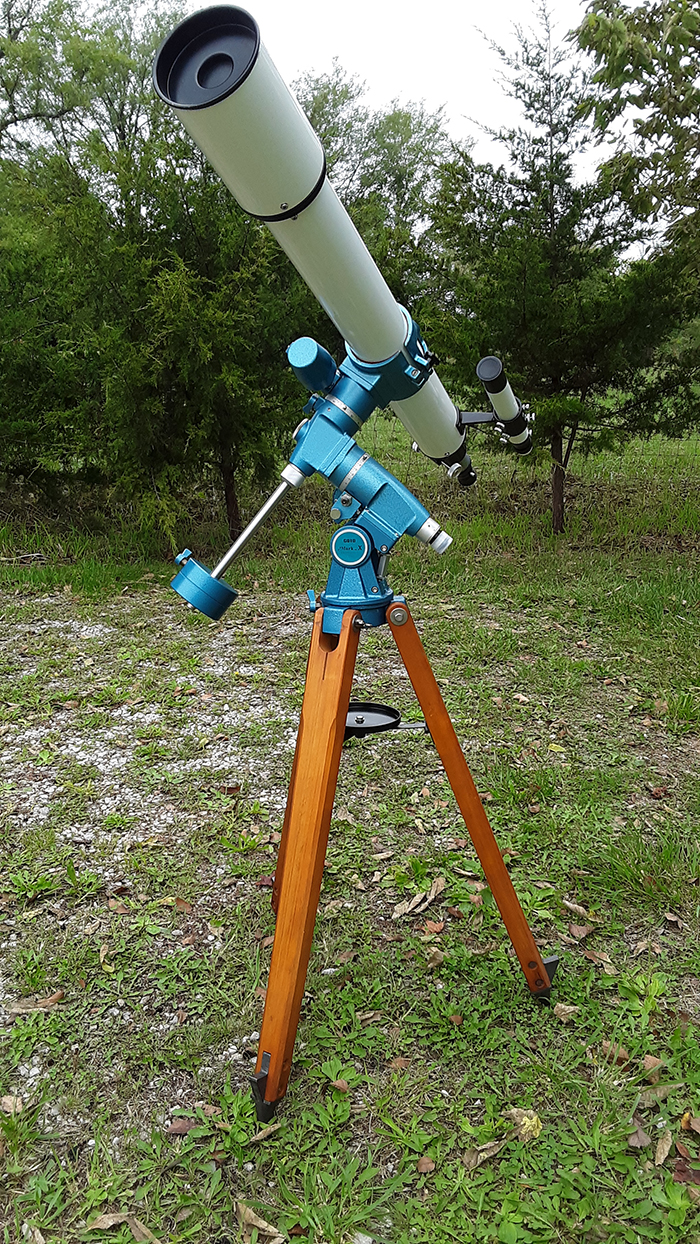 This time, Thank you very much ,Mr.Donald Chatfield !!

Mark-X and GOTO 80mm doublet type semi-apo telescope, I know very well. Because I started to watch star by this telescope with
Mark-X mount since I was 12 old.

First, please let me explain about GOTO kogaku Mark-X mount .
Before GOTO released Mark-X mount , Japanese mount was designed for each OTA. However, Mark-X mount was system type, so
1 mount ( Mark-X system) can be used for ( 65mm refractor, 80mm refractor, 125mm reflector and other OTA).
Because , in case of Mark-X , tube-holder was exchangeable.
This was Epoch-making at that time in Japan
< after Mark-X's appearance, Japanese other telescope makers followed GOTO kogaku's style for all mount>

Mark-X mount is beautiful blue. GOTO kogaku designed Mark-X in full power . 1 point was very useful polar scope, and exclusive parts in it.(exclusive bearing and
so on).

Personally, the most greatness of Mark-X's development was it's motor drive system.
Till then, all Japanese mount adapted synchronous motor ( AC motor), or servomotor.
However, Mark-X's first model motor drive was step motor (* tuning fork dispatch type, not crystal dispatch type ).
Moreover, RA. DEC, both of them , 126 pieces of gears was adopted.( normally, Japanese mount adopted 144 pieces of gears )

The reason why is by 126 pieces of gears can make 100% exact tracking speed as same as sidereal time. From these new system, Mark-X mount has great
tracking performance
In 1970s, Japan met the times of the astrophotograph.
In case of Mark-X mount, from only motor drive moving, we can take photograph of the constellation without any efforts.
All all aspects, I think Mark-X mount was the top of the small equatorial mount made in Japan in 1970s.



Recently, I have known that GOTO kogaku's all refractors were designed by Seizo GOTO ( founder of GOTO kogaku).
This thing is not spoken , but now I think Seizo Goto was the genius of designing Visual Telescopes.
In case of GOTO, (especially 1960s~1970s) , big refractors like 150mm F15 achromat, 100mm F15 achromat, 20cm F15 achromat) for mainly
school observatory. GOTO kogaku made such school ovservatories all in Japan..

80mm F12.5 doublet type semi-apo, I have been using about 20 years long. The structure is really exclusive. Of course, performance
is great. This OTA seems to be specially nice for double star .

GOTO kogaku has very long history.So, even for me, there are still mysterious points about GOTO kogaku.

Anyway, Mr.Donald , thank you very much !

26/ Sep in 2020 koji matsumoto